This page lists our most recent product updates (big and small). If you have any suggestions then please
send us a message here
- we love to hear your ideas!
Wed 13 Sep 2023
Ensure all your open positions are being actively managed with the Vacancy Report tool
When you have multiple open vacancies it can be hard to keep track.
All Jobs Pro's Vacancy Report does all the heavy lifting for you.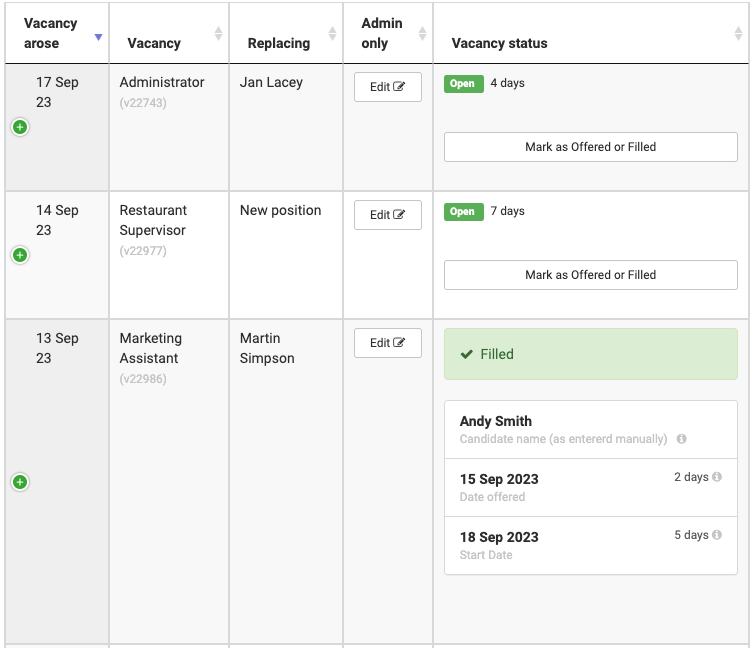 All Jobs Pro can be configured to email hiring managers with actionable suggestions, politely prompting where action is needed to ensure no candidate is overlooked.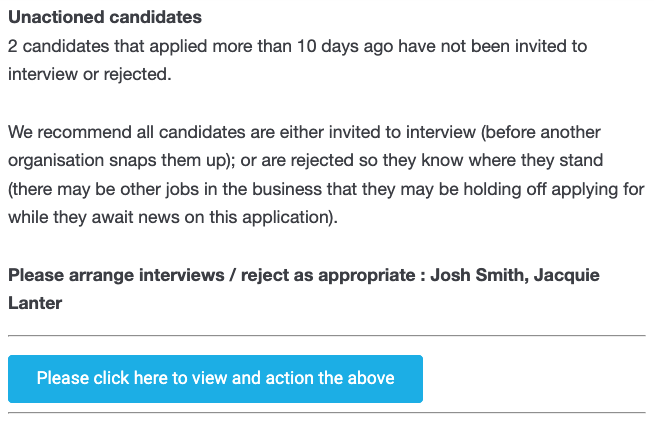 As open positions are filled its easy to update the Vacancy Report.
1. Click on Mark as Offered or Filled

2. Type part of the candidate's name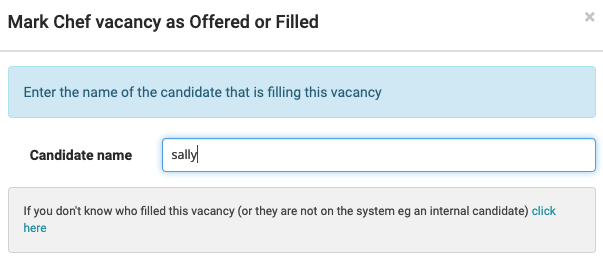 3. Select the relevant candidate

4. You can enter the Offered date, or the Start date, or both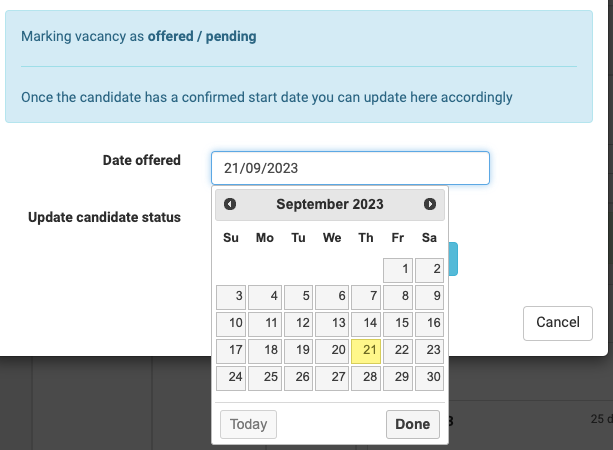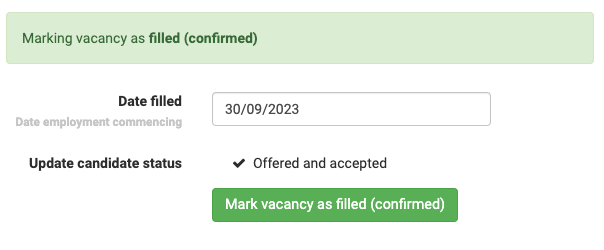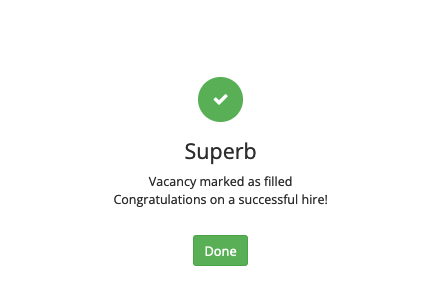 5. Your Time to Hire metrics are automatically calculated for you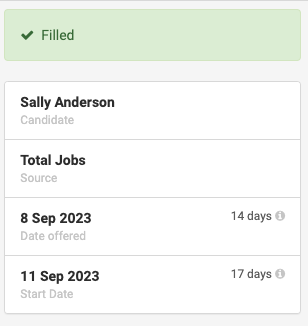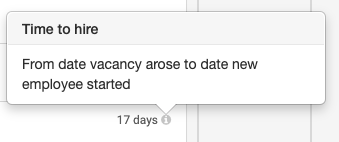 6. Any hard to fill vacancies can easily be identified - why not ask for suggestions from your All Jobs Pro Hiring Success Executive on your next
Recruitment 1:1 call
?

---
Mon 11 Sep 2023
Vacancies report - name of leaver added
In order to make it easier to keep track of the vacancies that exist in your organisation, All Jobs Pro's vacancy report now asks for the name of the person that is leaving.

This information will show up in your internal reports to make it easier to identify which specific role this vacancy relates to.
As always All Jobs Pro's GDPR module tidies this data away in a compliant way once it is no longer needed.
If the vacancy is not arising as a result of someone leaving, just put "new".
Just a small update - we hope you find it helpful.
---
Mon 4 Sep 2023
Easier interview slot creation

It's now even easier to create multiple interview slots for candidates to book into.
In this example we want our interviews to last 1 hour

Our first interview will be at 1pm so we select that in the Time menu.

When we click "Add" the interview slot is created in the normal way.

but now the Time menu has automatically been updated to 2pm (ie 1 hour later than our last interview)

When we click "Add" then the Time menu will change to 3pm, and so on.
So if you need to organise a number of interviews, one after the other, this update should save you a few clicks.
Naturally you can still choose a different time manually if needed, and this works for all interview durations eg 30 mins, 45 minutes etc.
This is only a small update but they all add up and we're always looking for ways to reduce friction and make it easy to organise your interviews - we hope this helps.
---
Mon 28 Aug 2023
Exporting your reports to a spreadsheet

Most of the reports you can view in All Jobs Pro can be exported as a spreadsheet (eg Excel). Just look for the Export button (at the bottom of most reports).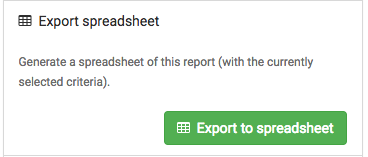 Your data will be transformed into a spreadsheet and downloaded to your desktop instantly. Here you can perform further manipulations / sorting etc and share with your colleagues.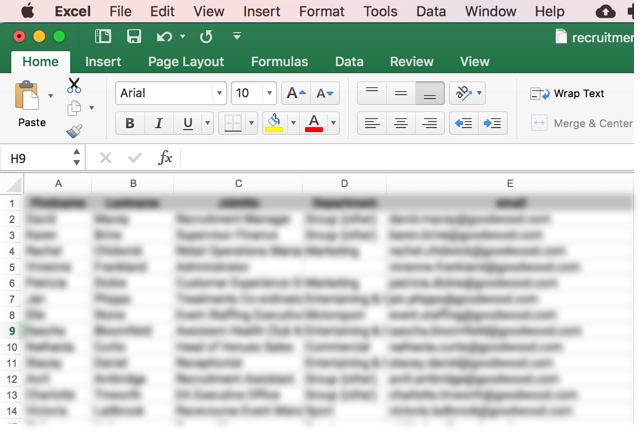 You can also share specific reports with your colleagues with a link, this will lead back to the ATS enabling them to see the most up to date snapshot of where your organisation is at with your recruitment.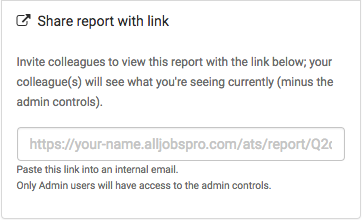 Simply copy and paste the link into an email or if you wish All Jobs Pro can send your colleague an email that contains a "sign-in" link which will take them straight to ATS
Do this by clicking Admin > Users > Send sign in email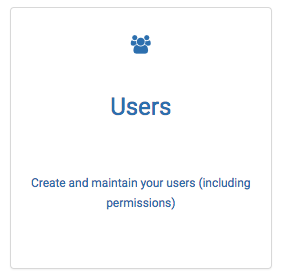 You can customise your email (eg by including a link to the report you wish to share)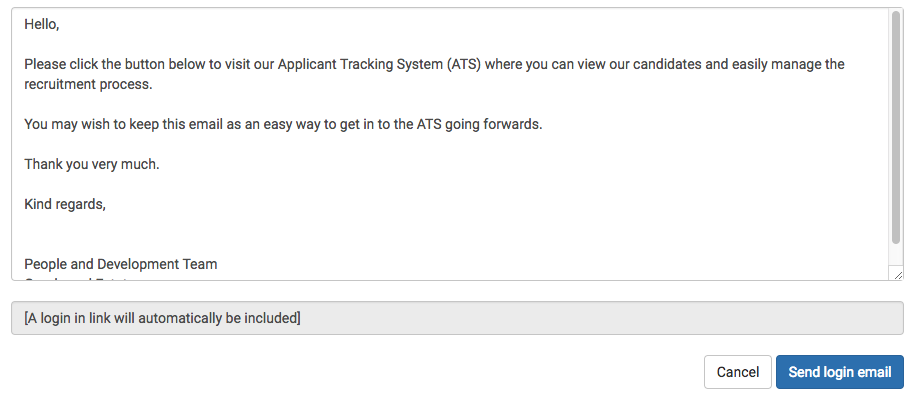 If you need any help with reports or anything else with All Jobs Pro then please contact our friendly support team anytime.
---
Mon 14 Aug 2023
Customising your application form to ask job specific questions
All Jobs Pro application forms can be customised to ask specific questions that relate to the role you are recruiting for. This makes it easy to sift applications and shortlist candidates that have the specific skills and experience you are looking for.
It's easy to set add specific questions to your application form - you can either do this yourself on the Add a job page, or have your customer service representative do it for you.
To add a question to your application form
1. Click this button

2. Choose from the list of questions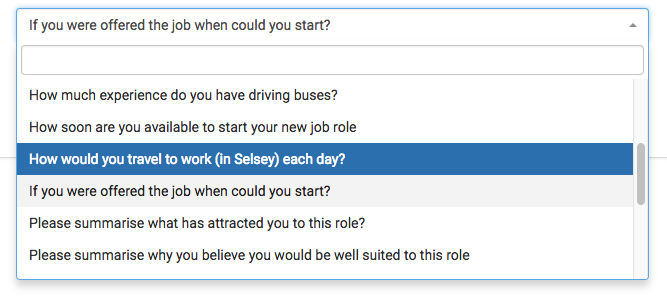 ..or compose a new question by clicking at the bottom..


4. Candidates can easily answer your questions when they apply (including on mobile devices)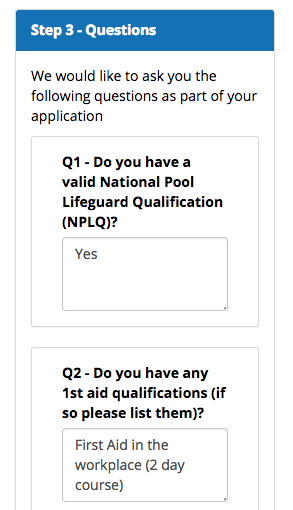 5. Candidate's answers are emailed to you along with their CV / completed application form and their contact details.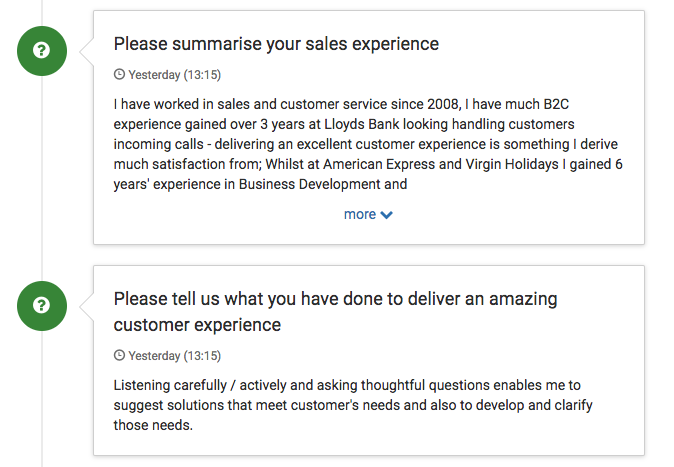 6. You and your colleagues can also view this information in All Jobs Pro's ATS - helping everyone by keeping everything organised
Advanced optional extras

Auto-Disqualify
For custom 'Yes/No' questions, you can choose to automatically disqualify candidates who answer "No".
Using Auto-Disqualify requires some understanding of GDPR; please talk to your customer service representative to have this feature enabled.
Follow on questions

If you need to ask more detailed questions eg "Have you worked for us before, if so which of our branches did you work at?" Our support team can create Advanced application form questions to suit your specific requirements - please ask for details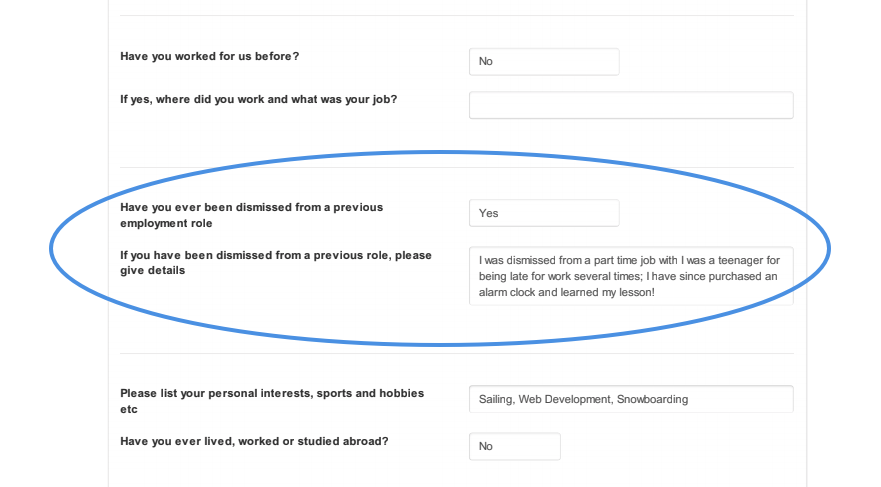 ---