My passion for HR came when I was 15 and undertaking GCSE Business Studies. It was a recruitment module and I loved how analysing people's skill sets and testing their skills, experiences and knowledge can ensure the best people are recruited for an organisation to deliver commercial success. From that point, I knew I wanted to work HR and ensure that I could really add value in driving business success through people.
The HR profession has really moved on over the years. It has moved from being seen as an overhead that is all about "tea and sympathy" and admin, to being a commercially driven proactive department that partners with the business to support organisation success through people.
HR is now at the heart of most businesses which makes it truly exciting for people entering into the profession as to where they can take their career.
HR really is a diverse profession. There are so many career paths that you can take and the skills you learn can be adapted and taken to any industry, giving you a brilliant insight as to how different business work and genuinely what makes best practise.
What type of HR roles are there?
Most who enter into the profession, often will go into generalist roles. This means you get to be involved with every stage of the employment lifecycle, from recruitment, training and development to managing exit processes. This is a brilliant way to engage with a business in providing a well-rounded holistic HR service. However, with the evolution of how HR can add value to a business, specialist roles have been developed meaning you can now become a "subject expert" in areas such as; benefits and rewards, employee relations or learning and development.
With HR being at the heart of an organisation's success, there is no ceiling point for where your HR career can take you. There are many brilliant HR professionals sitting on Leadership teams as HR Directors – getting heavily involved in driving business strategy.
How to get to the top
The HR career ladder generally has eight key rungs, the responsibilities and salaries at each level is mainly dependent on the size and type of organisation that you work for. These are:
HR Administrator
HR Assistant
HR Advisor / HR Officer
HR Business Partner
HR Manager
Head of HR
HR Director
Group HR Director
Like myself, most HR professionals develop their careers by working through each level of the HR career ladder. However, others can take different routes, utilising transitional experience from what they have been doing in another role. For example, a friend of mine in the profession was working as a Team Leader in a call centre, their role involved a lot of employee relations, which they had a flair for. They therefore utilised their experience to move into a HR department as a Case Manager. They are now a Senior HR Manager and they are doing brilliantly as a HR professional. There are lots more examples of how skills can be transferred, demonstrating that it's never too late to start your HR career.
So, what skills do you need to be a successful HR professional?
The CIPD's HR Profession Map is a brilliant way for any budding or seasoned HR professional to map their skills to the profession.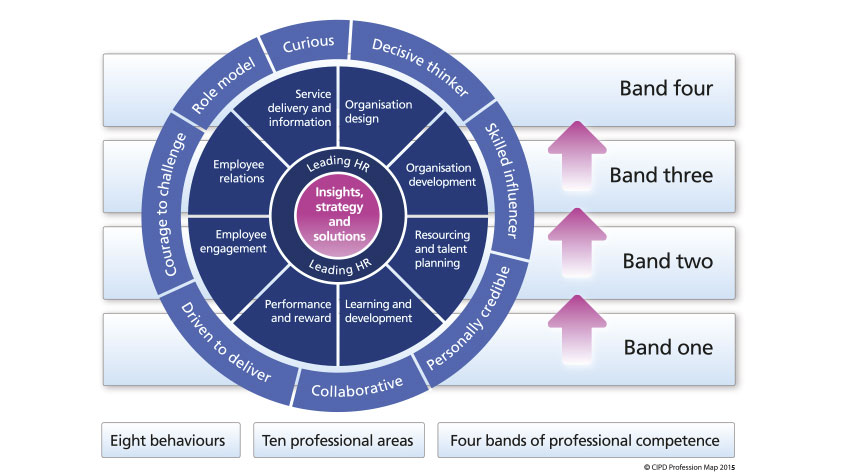 It illustrates what HR people do and deliver across every aspect of the profession and looks at the underpinning skills, behaviour and knowledge that they need to be successful. It is important to note that commercial awareness is key.
CIPD also published in its guide "Next Generation HR", the personal qualities that HR professionals need to be able to get the top: "The most common descriptors of them are professional, transparent, insightful and thought-provoking".
So, applicants who are looking to get into HR because they see it as just a back office profession that deals with people issues may need to rethink as in today's world, HR is all about being strategic and ensuring an organisation and it's employees can get the best out of the employment relationship.
What Qualifications do you need for a HR Career?
As with most sectors, it's easier to break into HR if you have the appropriate qualifications. There are a range of qualifications to choose from for HR, each offering their own benefits, so it can be difficult to understand which is right for you.
There are many unaccredited short courses out there which offer HR qualifications. In today's competitive job market, I always would advise of erring on the side of caution with these. Accredited qualifications will always get you noticed in the job market, so whereas a low cost on-line HR course sounds great on the surface, when applying to roles, an employer will not see this as a selling point for your application.
The CIPD (Chartered Institute of Personnel and Development) is the main HR industry body in the UK and provides a range of accredited HR courses. The qualifications they provide set the standard for profession. The majority of employers hold CIPD qualifications in high regard. A CIPD qualification is often a prerequisite for applying to HR roles at a number of levels – particularly those at a senior level.
CIPD HR qualifications start at entry level and go all the way to higher qualifications such as an MCIPD, which is typically undertaken by HR professionals with demonstrable and proven experience.
Undertaking a HR qualification is not something that should be taken lightly. It is a massive time investment and if your employer does not offer to sponsor you through the training, it can also be a big monetary commitment too. However, if you can commit to investing in a CIPD qualification, it's definitely worth it. CIPD courses are broken down into levels, from entry foundation which is now a level 3, to intermediate level 5 and advanced level 7. If you're a new to HR, then the foundation level is likely to be your starting place.
As I did, most people will undertake their HR studies whilst holding down a full-time job and having a busy life. Luckily there are a range of learning options – you can study full-time but there are part-time and distance learning options available.
There are also some great HR graduate training schemes. With the new Trailblazer apprenticeship scheme being launched by the Government form April 2017, there will be more opportunities for individuals wanting to work in HR and study for their HR qualification through an apprenticeship. Don't' be put off by the apprenticeship route. Apprenticeships have come on leaps and bounds and you can be an advanced apprentice now, working towards a degree level qualification. It's definitely worth considering as it's a great way to gain practical experience whilst having the opportunity to gain a qualification.
Whichever you go with, remember that studying is a big commitment, the coursework and assignments are very detailed. You cannot go into studying for your CIPD half-heartedly, to get the most out of it, you need to commit to being a "study geek" for the duration of your course.
In addition to your studies, most CIPD qualifications lead to some form of CIPD membership, which is also a useful tool for any HR professional. CIPD membership is very desirable to a potential employer as it demonstrates a commitment to the CIPD's standards and best practice.
Further, information on CIPD qualifications is available at its website.
What about if I can't commit to studying for a HR role now?
HR qualifications aren't essential if you're just starting out in your HR career. You might be able to take on a junior role, such as an HR assistant or administrator, without a formal HR qualification, provided you have good GCSE and/or A-level results.
However, whilst it's possible to get into HR without formal qualifications, the current job market is tough and there is increased competition for HR roles. You may be competing for roles against candidates who have similar experience to you, but hold a HR qualification. So, in a competitive market, obtaining a qualification gives you a significant advantage.
Hurrah, I've finished my Studies – that's it right?
Wrong!
Even after you have finished your formal studies, it is important to highlight that your knowledge building doesn't stop there. Continuing professional development is an expectation across many sectors, and HR is no different. HR professionals must develop and increase their knowledge as their career progresses and as the industry and employment legislation evolves. So make you take advantage of the range of HR seminars that are held in your local area, which are often free.
Is it worth it?
It totally is!
Working in HR is a truly rewarding profession, it draws on so many different skills, you need to be people focused with an ability to drive a commercial agenda.
HR is the back bone of an organisation, every step of what an organisation does involves people and the need for a good HR team.
So, if you want to be a soul of an organisation not just a part of it, you should be an HR.
---
We hope you find this information helpful but please keep in mind that it does not constitute legal advice and we can not be held responsible for any inaccuracies or damages that may result.
---