All candidates that apply to your roles are automatically added to your searchable talent pool (subject to their privacy preferences).
If you interview a great candidate that isn't quite right for your role but would be a real asset to your organisation (perhaps in a different department or a slightly different role) - we recommend Highlighting them.
This will help you (or your colleagues) find the most talented people to approach for other roles that arise in your organisation, either now or in the future.
How to highlight candidates:
1. On the applications page, click the "Highlight" button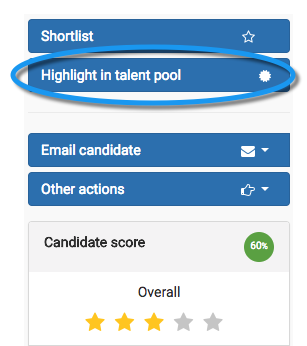 2. Make a note of why you are highlighting them

3. Comment prompts save time and elicit helpful comments

4. Your colleagues will see your comment when viewing this candidate

Benefits of highlighting candidates:
1. If this candidate applies for another role in your organisation (either now or in the future) your colleagues will be able to see your helpful feedback to draw them to talented individuals that already have a relationship with your organisation.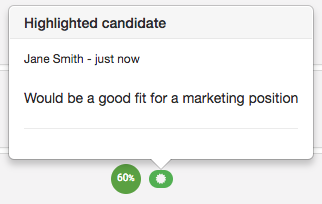 2. Highlighted candidates are shown at the top of your searches in the Talent Pool to make it easy to reach out to them if a suitable position opens up in the future - helping you employ the best, most talented people.

You can easily invite highlighted candidates to apply a position you consider they may be suited to using the "Invite candidate to apply" template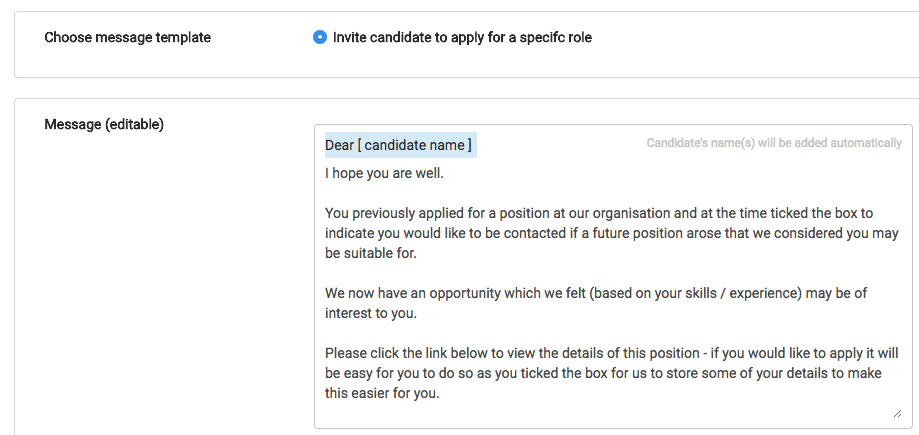 If you have any questions about highlighting candidates, searching in the talent pool or contacting candidates then please contact our Customer Success team who will be happy to guide you through the process and answer any questions you may have.