Fundraising Executive - Hybrid/fully remote
Salary

£24,000 to £28,000 per annum depending on experience
Location

Hampshire
Contract

Permanent
Hours

Full Time - 35 hrs per week, flexible start and finish times available (part time available)
Closing

28 September 2023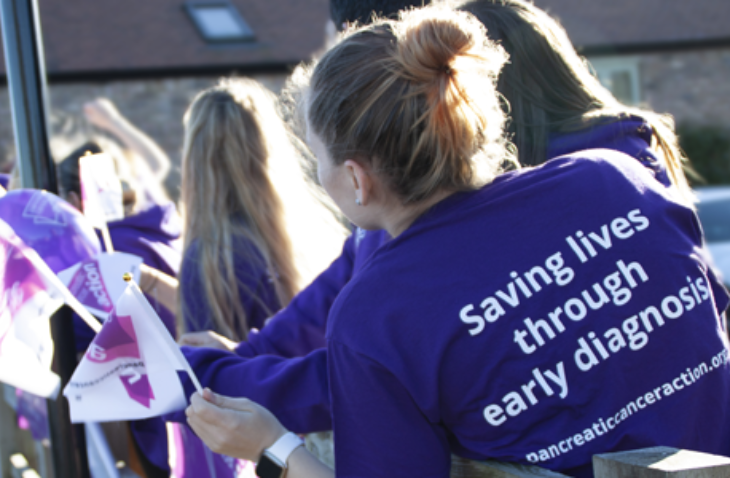 Job summary

This is an exciting time to join Pancreatic Cancer Action. If you are a proactive, enthusiastic, motivated fundraiser with a can-do attitude we need you to help us to achieve our ambitious strategy by 2030. As a Fundraising Executive you will have a vital part to play in our Income Generation Team. This person will have ownership of supporters choosing to fundraise for PCA through products, DIY/community, Corporate and events fundraising. We are looking for someone with the creativity and innovation to help increase income over the next couple of years and play their part in improving early diagnosis of pancreatic cancer and saving lives.
About PCA:
Pancreatic Cancer Action (PCA) was founded in 2010 by a rare survivor of the disease. We are a small, creative and passionate team committed to improving early diagnosis and saving lives. In August 2020, Pancreatic Cancer Action merged with Pancreatic Cancer Scotland making our team stronger than ever.
Pancreatic cancer has only a 7% survival rate and this figure has not improved significantly for over 50 years. Despite it being the 5th biggest cancer killer in the UK, pancreatic cancer receives only 3% of overall research funding.
With a strong focus on early diagnosis, it is PCA's aim to improve survival rates through raising awareness, medical education, improved patient information and by funding research specifically into the early diagnosis of pancreatic cancer. Simply put, we want more people diagnosed in time for surgery, currently the only potential for a cure.

The role can be either hybrid or fully remote working. You will be required to go to the office once a month.


Main responsibilities
Develop, Implement and manage an annual programme of challenge events such as the London Marathon, develop and maintain community and corporate fundraising audiences and opportunities across the UK. Ensuring they are within budget whilst always maintaining the highest quality supporter journey.
Support the delivery of the virtual challenge event- Jog Jan. Add insight and support the annual Pancreatic Awareness Month Campaign and help to further develop Pyjama's for Pan Can to new audiences.
Create and drive forward new fundraising initiatives to maximise income from our existing products and events.
Seek out engagement opportunities to support donor acquisition and retention utilising new and existing channels and platforms.
You will be an excellent relationship manager who can maintain accurate records on our CRM system (Salesforce) to ensure that we develop, engage and update our supporters.
Work closely with other departments, in particular Marketing and Comms, to create engaging products and campaigns. Updating the fundraising section of the PCA website with relevant news, events and opportunities.
Support the Community Fundraiser and Fundraising and Operations Assistant to fulfil supporters merchandise requests to ensure all relevant support materials are dispatched on time.
Support in the development of Community and/or Corporate fundraising, challenge events and fundraising products, with demonstrable success raising income through one/all methods.
Be competent at data inputting, IT literate and very organised. Empathy and excellent communication skills are vital in this role and the candidate must be able to collaborate and work well as part of a team.
Attending when necessary, external events, conferences and exhibitions across the UK and being the face of PCA, acknowledging that some of these may involve overnight stays and weekends.

Income and targets
Help to grow Pancreatic Cancer Action's income from challenge event fundraisers and corporate partners.
Develop ongoing stewardship journey for Community Fundraisers and increase average gift though exceptional supporter care.
Achieve Financial and non-financial targets and KPI's from challenge events, corporate and community fundraising as agreed with the Head of Income Generation.
Monitor and control allocated fundraising budgets and regularly update the Head of Income Generation.
Prepare and monitor reporting for all online fundraising platforms to fit with our accounting systems reporting this to the Head of Income Generation monthly.
Contribute to PCA's fundraising strategy.

Other duties
Liaise with the Marketing & Comms team weekly to establish a consistent flow of Income generating opportunities across all social media platforms.
Perform any other duties that the Head of Income Generation may consider appropriate.
UK driving license is essential – our office is in rural Hampshire and the nearest train station is a 15-20-minute drive away.
While every effort has been made to outline all the main duties and responsibilities of the post, a document such as this does not permit every item to be specified in detail

Person specification - please see person spec attached

What we offer:
Fair and equal pay (reviewed annually)

28 days leave, plus bank and public holidays

Birthday leave
Friendly supportive team

Opportunities to get involved in all aspects of the organisation

Flexible working arrangements and we believe in work-life balance

Wellness Wednesdays

An organisation which takes mental health seriously
Health cash plan scheme including children under 16 years with the option to

upgrade and add family members
Employee assistance programme

Casual dress

Scottish Office (Glasgow) where you can hybrid work alongside other team members
Investment in your ongoing development such as conference participation and

training courses
And much more!
---